Budget Bunting!
Bunting is a fabulous way of sprucing up any party – either indoors or outdoors! And understandably, it can be expensive to buy. This is why we've created a little guide to making bunting on a budget!

There are two types of bunting: one is made from cloth and one is made from paper – we've decided to guide you through the steps of making paper bunting as it's less fiddly and a little cheaper! Our bunting will still resemble the traditional triangular shape, however if you're feeling creative, why not spice it up and try different shapes, or add letters and photos to make it more personal.
Paper Bunting
Makes 5 meters.
Firstly, you'll need your materials:
| | |
| --- | --- |
| | 13 x A3 sheets paper: this can be coloured, patterned, or even photos but it's best to remember the thicker the paper the better, as the bunting will hold its shape better, however you don't want to start using cardboard! We suggest using A3 sized paper but this can be hard to come by in different colours/patterns so you might need to use your imagination. One A3 sheet of paper will make 2 triangles, so you'll need 13 sheets of paper (26 triangles!). |
| | 5m x Ribbon: this can be any colour you like, we've found satin ribbon to work best and it doesn't need to be thicker than a centimetre! Ribbon can be expensive, so check online before buying it in shops. |
| | Scissors |
| | Double-sided tape – this can be bought in most craft shops and supermarkets, but again, have a look online if you can't find it locally. |
| | Pencil, Ruler |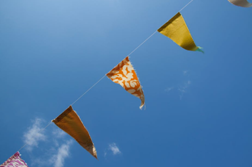 These are the basic materials you will need, but as mentioned earlier, if you want to personalise your bunting, think about cut-out letters, glitter, paint… there is no right or wrong way to decorate your bunting!
The making of the bunting is really quite simple, we've compiled it into just four steps:
Step 1: Cut the Paper
The triangle of the bunting is called a 'pennant' and typically each pennant is about 20cm by 20cm, but you'll need a lot of paper to make them this size, which is why we've opted for a slightly smaller pennant. Fold the A3 paper in half lengthways, and then fold in half again. Open the last fold so the A3 paper is still in half (A4 sized) but the middle of the paper is marked, and then using your ruler and pencil, mark a dot at the bottom of the paper, 15cm in from each edge as shown on the diagram. Using the scissors, cut a straight line from the dot to the corners opposite, following the blue dotted line on the diagram. Once these lines are cut, you should have two diamond shaped cut-outs. Do this for all your A3 paper.
Step 2: Attaching the Pennants to the Ribbon
There are few ways you could do this but the easiest is with sticky tape. On a flat surface, lay the first meter of your ribbon out and measure 30cm from the end. This is to allow enough ribbon to hang your bunting when it's finished. Slide the open pennant underneath the ribbon until the ribbon sits in line with the crease of the fold. Take about 5cm of double sided sticky tape and place it underneath the ribbon and onto the triangle in line with the crease. Gently press the ribbon on top of the sticky tape. Then get another piece of double-sided sticky tape and place this over the top of the ribbon. Then gently fold the open diamond in half so that it forms a triangle again and is secured in place. Leave about 2cm between each triangle and work your way along the ribbon.
Step 3: Hang it!
With the bunting complete, the next step is to hang it! Depending on the weight of your bunting (and how long you intend to keep it up for), sticky-tack might just do the trick! Otherwise, drawing pins or cupboard handles and curtains poles are great places to tie the end of your ribbon around!
Making bunting is an easy craft to do with very little resources, but life isn't always so cheap…

If you need a loan to cover the cost of an unexpected bill, like car tyres you need to get to work, or a broken boiler in the middle of winter, at Clear and Fair we compare direct lenders, so you can find the cheapest loan for your needs. All our lenders are FCA regulated and we aren't paid to rank them so the cheapest lender you see really is the cheapest lender. If you need a short-term loan, why not have a look now?