How to Host a Royal Wedding Budget Bash!

Royal weddings don't come around too often, so they are definitely worth celebrating when they do. In this blog, we are going to talk you through organising and hosting the best, budget, royal wedding garden party – for quite a few years to come!

The last royal wedding was on 29th April 2011, between Prince William, the Duke of Cambridge, and Catherine Middleton, more commonly known as Kate. And now, seven years later, we see the royal wedding between Prince Harry and Ms. Meghan Markle. The wedding will take place on Saturday 19th May 2018 – the perfect day to gather some friends and family and enjoy a rare occasion and hopefully, some warm and sunny weather!
You don't have to travel all the way to Windsor Castle to enjoy the ceremonies of the royal wedding – after all, it will be broadcast on the TV – and often the most enjoyable celebrations are had in the home. And this is exactly where your royal garden party should take place.
So, first things first: the decorations.

The flowers are reported to be white garden roses (a tribute to the late Princess Diana as these were her favourite flowers), foxgloves and peonies, so whites and pastels are a good way to go. Think, white table cloth, maybe pale pink napkins, and perhaps even some flowers in the middle of the table. If you go to your local supermarket, you should be able to get napkins and table cloths very cheaply (especially if you buy the disposable paper ones), which means you could use them inside or outside dependant on the weather. The best flowers are often bought at flower stalls, but perhaps avoid flower stalls in city centres as these will often be more expensive than market stalls further out. And don't be too fussy on the exact species of the flower, the likelihood of people even knowing the flowers in the royal bouquet is very slim.

It's always nice to use some bunting as well – a seemingly British tradition for fete's and summer events, and you can even make your own to cut the overall cost of decorations. To find out how to make paper bunting, click here.

Another way to get everyone involved in royal wedding festivities are masks: you can buy paper faces of the royal family members pretty inexpensively online as imitating famous people will never get old. You can also find a vast array of Union Flag printed napkins, paper plates, and as aforementioned, bunting.
Once you've decided on your decorations – as elaborate or subtle as you like, the next thing to think about is — of course — food.
The menu for Prince Harry and Meghan Markle's wedding has not yet been released but we do know about one thing: the wedding cake. The wedding cake is to be a lemon elderflower cake decorated with buttercream and fresh flowers. While we don't suggest sticking daffodils to the top of your cake, the lemon elderflower recipe will go down a treat! And you don't need to be a fine hand at icing either because everyone loves buttercream.

You can buy cakes for special occasions but making the cake will be much cheaper and probably much more appreciated.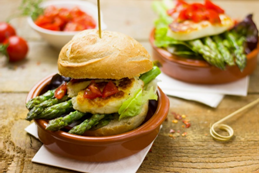 The savoury dishes may need a little more thought. You could go down a similar route to that of Prince William and the Duchess of Cambridge who had 10,000 canapes for their 650 guests (which is around 15 canapes per person!), or you could honour Ms. Markle's self-proclaimed status of being a 'foodie' and make whatever food you enjoy. Some of the canapes at Prince William and Kate Middleton's wedding included fishcakes, quails' eggs, asparagus tarts and even the blessed cheese straw. So, there's quite a range to choose from, and maybe you could make one of these canapes into a main dish for your guests.
If you really can't decide, you can never go wrong with a barbecue – as long as the weather holds up! And, as well as the gorgeous lemon elderflower cake we are sure will be a success, you mustn't forget the strawberries; a great tradition in royal wedding history.
As for drinks, the obvious is Champagne but this may be a little out of your price range, especially as it's not even your wedding. So, why not go for a cheaper alternative, maybe prosecco or cava?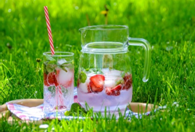 Most supermarkets do deals when buying a few bottles at a time so it's worth looking out for. Pimm's is also a great summer drink and you can make it as strong or as week as you like. And if you're not into alcoholic beverages, pink lemonade is just as fancy and will look very elegant against your pastel table dressings.
And last, but not least: entertainment!

Obviously, the royal wedding will be on the TV, so this is an easy one, however, the ceremony is to last from noon until one, so you might find yourself floundering if you are hosting an afternoon/evening gathering. To overcome this, we would suggest a good music line-up, and fortunately, there have been hints at the playlist for the husband and wife to be. During the ceremony there will be two choirs, an orchestra and various individual musicians. This may not be quite the barbecue theme tunes we were hoping for, however the Spice Girls and Elton John are both rumoured to perform at the wedding reception and you can't go too wrong with those two. And, if all else fails, whack on some Queen or even some Prince, because you really can't get much more topical than their namesakes for a royal wedding celebration.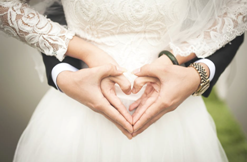 The main thing to remember throughout your royal party is that two people, from very different backgrounds are coming together and uniting in the name of love. What more of a special occasion does one need to throw a bash?
And however, you do it, or for whatever reason you decide to host a party: paper plates will help you save on washing up!

Whatever the occasion, it's always nice to have a reason to celebrate. It is important that you don't go too over the top if you are already concerned about your finances, and when organising an event with lots of people it's perfectly acceptable to ask everyone to make a dish if it helps you out.
At Clear and Fair, we understand that fitting the bill can be difficult with so much going on both in your life and in society. There always seems to be a reason to celebrate but your finances might not always be so willing. This is why we compare same day loans: different lenders offer different rates of interest and we make sure they're in one place, so you don't have to do the research that we've already done. And, as our name suggests, we are an unbiased comparison site who only feature FCA regulated direct lenders, so you can be sure your results are clear and fair.

If you are celebrating the happy couple, feel free to tweet us your photos at @clearandfairUK, or if you're simply enjoying the weather, be sure to let us know!