How To Have A Great Holiday On A Budget (30 Top Tips)
Whether you're about to go on your summer holiday or are planning a trip later in the year, we at Clear And Fair have put together thirty of the very best tips on how to have a great holiday even if you're on a budget. From saving money when booking, through to finding fun activities while you're away, we have all the best tips and advice.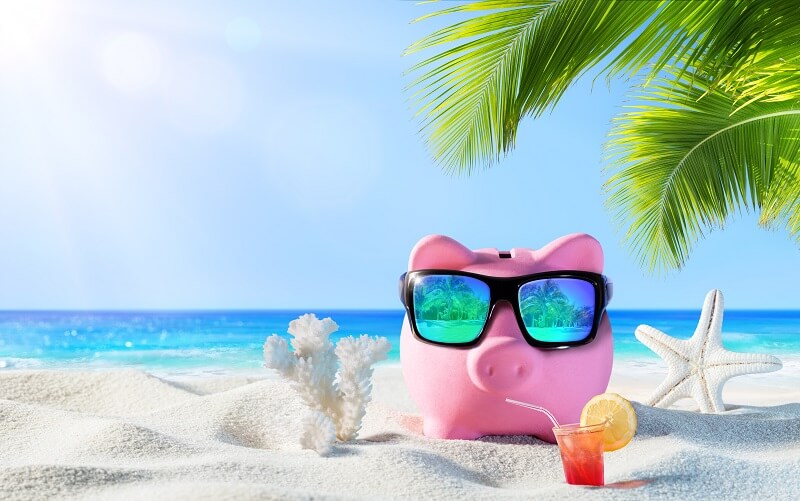 When You're Booking
The first step in getting a great holiday on a budget is the planning and booking. If you do this right, you'll be able to go somewhere fun even when you're on a budget. (You could even use the savings from booking on fun activities while you're there!)
1. Location
Choose the location of your holiday wisely in order to get the best deal for your money.
UK Holidays
Stay-cations are becoming more and more popular. There are loads of places you could go on holiday in the UK for a fraction of the price of travelling abroad and still have a fantastic time. If you choose a good week, the most southern parts of the country can even feel like being abroad!
If you save a lot of money on flights and travel, you can then put that money into other things, like nice meals out or activities.
Abroad
If you're going abroad, then think carefully about the location. Europe is going to be cheaper to get to than the USA, for example, and getting the ferry to France will likely be cheaper than flying to Greece.
But it's not just the cost of travel you need to think about: the cost of living is also a really important consideration. You might be able to get to Switzerland on cheap flights, but the price of food and general living there is significantly higher than in neighbouring countries like Germany.
It's also worth remembering that destinations further afield might require expensive vaccinations and different countries also charge more for visas than others (while for some you don't need a visa at all). Be sure to factor these in when you're picking where you want to travel to. This will help you keep the cost low while still getting a great location for your holiday.
2. Indirect Flights
When you're looking at flights, stopping off for a few hours could end up saving you a lot of money compared to flying direct.
3. Do It Yourself
All inclusive holidays can be great, but it's usually significantly cheaper to rent a house and 'do it yourself'. If you have a house with a kitchen, you can cook your own food, which will save you a lot of money. It can be more of a hassle, but you might actually find it more fun!
This applies for holidays in the UK too. You can use websites like Airbnb to find lovely homes or flats anywhere in the country.
Camping could be another option, but you have to be careful with this one. Sometimes hiring a caravan for a week, particularly abroad, can actually be more expensive than hiring a flat through something like Airbnb.
4. House Swap
Alternatively, you could look into house swapping. This would mean your accommodation was completely free for your holiday, if you're happy to have a family stay in your home while you're away. Try Home Exchange (homeexchange.com), Homebase (homebase-hols.com); or HomeLink (homelink.org.uk).
5. Consider Hostels
While hostels might not be appropriate for family holidays, they can work really well if you're travelling alone or with a group of friends. They're not the height of luxury, but they can be a really positive experience as you'll meet a lot of people who are also travelling. And, of course, they're usually dirt cheap.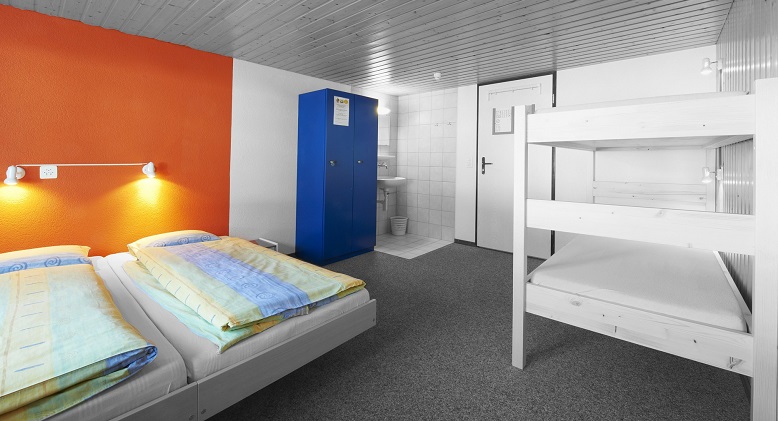 6. Think About When
Travelling off peak is going to save you a lot of money, which means you'll have more money to spend on activities while you're on holiday. If you can travel during term time, then you'll get much cheaper deals.
Also look at flight times to find which day, around the time you want to travel, has the cheapest flights. Tuesdays usually have the best deals as it's the least popular day for travelling.
If you're going to be travelling on trains, then choosing off-peak times could really help you to save money.
7. Price Comparison Websites
As a price comparison website ourselves, we're big advocates of making sure you compare prices! Holiday comparison websites could help you save a lot of money, but you do have to watch for what each holiday package actually includes. Sometimes companies will strip out a lot of the benefits, like insurance, in order to present the lowest price.
If you use it carefully though, it's a great way to save money so you can find a great location even when you're on a budget.
8. Book Well In Advance (Or Very Last Minute)
Booking well in advance means that you'll get the best deals. Prices on hotels, flights and even activities often go up the later you leave it. If you book well in advance you should get some nice savings so you can go wherever you want, even on a tight budget.
Saying this, if you're a bit more spontaneous and flexible, then booking very last minute could mean you get some cheap deals. Hotels want to fill rooms where possible and airlines want their flights to be full if they can be. This means they'll often reduce prices a week or so before so you might find some cheap, reduced deals on last minute bookings.
On The Move
These next set of tips will help you to save money on the actual travel part of your holiday!
9. Check the Weight of Your Bags
Flight companies will specify a limit on the weight of your luggage, so be sure you weigh the bags before you travel so you don't incur extra fees, which can be extremely expensive.
You could consider just taking carry-on. A lot of flights will charge extra for you to bring luggage, so a carry-on bag could save you around £30, depending on the airline. You're allowed a decent sized carry-on bag which might be enough for all your holiday essentials depending on where you're going and for how long.
Bear in mind that there are more limits on what you can bring in your hand luggage compared to checked in luggage. Namely, on liquids and sharp objects, like some razors.
10. Bring Your Own Food
Whether you're just travelling across the UK, or are going abroad, bringing your own food for the journey could save you a lot of money. Eating at a service station or the airport will be significantly more expensive than bringing your own pack-up, and buying food on an aeroplane can be extortionate.
Remember to check what you're allowed to bring on the flight though as there are always restrictions on liquid.
11. Travel Overnight
If you're travelling a long way, you could opt for an overnight ferry or couchette train so you can sleep while travelling rather than having to pay for a stop-off hotel. This is a great shout for journeys like Dover to Calais, for which you can get great deals, but longer channel crossings might be more expensive this way so be sure to compare prices!
12. Budget Hotels
If you do have to book a stop-off hotel, choose a budget one. It won't be the height of luxury, but you'll get a bed for the night for a much better price than alternatives so you can save money to enjoy on the rest of your holiday.
13. Coach vs Train
If you're travelling across the country, see if you can get a coach instead of the train. It might take slightly longer, but it will be a fraction of the price!
14. Don't Change Money At The Airport
If you're going abroad, you'll need to change money so you have cash to spend while you're on holiday. However, try to be organised and do this somewhere at home before you leave; definitely don't do it at the airport as it's here that you'll have the most expensive rates.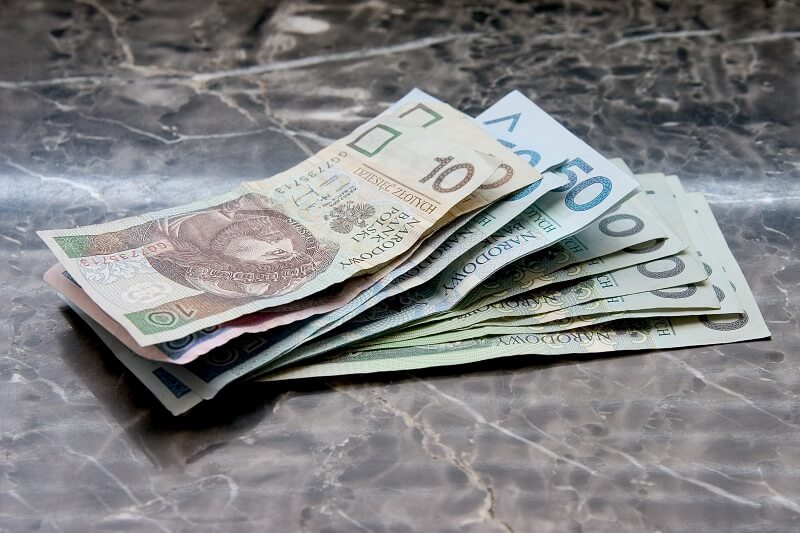 On Holiday
When you're on holiday, there are loads of ways you can have a fun time even when you're on a tighter budget.
15. Make the Most of Free Events
If you're staying at a hotel, they might have a lot of free entertainment included in the price. Hostels too are well known for running free evenings for people staying there, like pizza making or BBQs. They're a great place to meet people too!
There will also likely be plenty of free events and activities happening around the city or place where you're staying that you can make the most of, like festivals or street entertainment.
16. Visit the Beach
It's easy to spend a day on the beach and this doesn't cost a thing! If you're looking for something fun to do, visiting the beach is a low cost activity that's a lot of fun whether you're a family or a couple.
17. Walk
There'll be lots of bus tours available in cities, but walking is by far the cheapest way to get around and enjoy the sights. It doesn't cost a thing, but you can see all the tourist spots, soak up the local atmosphere and enjoy the place where you're staying. Be sure to bring sturdy and comfortable shoes!
18. Rent A Bicycle
Alternatively, if you're wanting to travel a bit further afield, you could rent a bicycle. You can cover a lot more distance but it's usually cheaper than paying for alternative transport. It also means that you can enjoy the scenery and feel of the local place while you're travelling (and it'll keep you fit too!).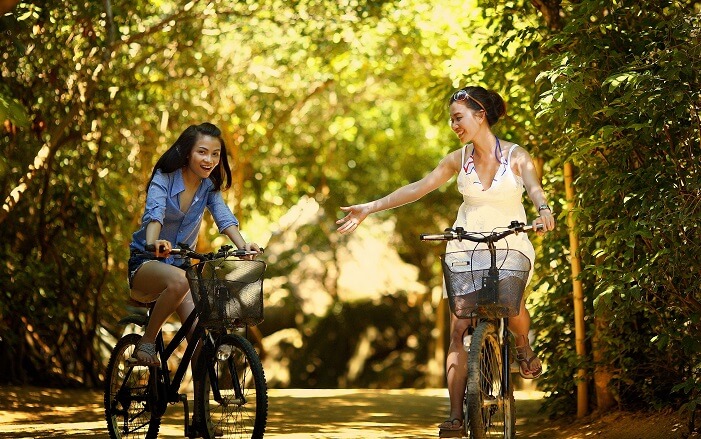 19. Avoid Taxis
Even if walking or cycling doesn't work for you, you should avoid taxis. They are the most expensive way to get around while you're on holiday so investigate public transport as a much cheaper alternative. You'll still be able to get to all the places you want to see, but it'll cost you a fraction of the price.
20. Get A Travel Pass
If you're going to be using public transport a lot, you could buy a travel pass. It'll save you a lot of money and mean you're free to travel where you want around the city or area where you're staying.
21. Haggle
In a lot of places, it's expected that you'll haggle over prices. It might make us British people uncomfortable, but it's the normal way to pay for goods. If you don't haggle, you'll end up paying a lot more for the things you want to buy.
22. Talk To Locals
The best way to make the most of your holiday is to talk to locals and find out the best places to go and where they recommend. They'll be able to tell you about local, free activities or walks that you could do that you might not be able to find out about from travel books.
23. Use Your Discounts
If you're over 65 or a student, you should make the most of the discounts that come with that. Be sure to bring some kind of ID so you can prove your age and you'll be able to save money on different activities.
Similarly, if you have kids you might be able to find special 'kids eat free' or other similar deals so you can enjoy family activities for less.
24. Drink Tap Water (If It's Safe)
Depending on where you're going, ask for tap water when you're at restaurants or bars. Bottled water can be very expensive while drinking water from the tap is completely free. Be sure to check beforehand if it's safe for you to drink. Different countries' water will have different composition of minerals that may or may not be okay for you to drink.
25. Take Picnics
If you're going out for the day, bring food with you. Some all inclusive hotels will give you a packup to take on your day trips or if you're self-catered you can make sandwiches before you leave for the day. It's significantly cheaper than buying food out.
26. Eat Out At Lunch
If you are going to eat out, eat your main meal at lunch time. Most places' lunch menus will be much cheaper than the same food in the evening so you'll be able to enjoy delicious meals for significantly cheaper prices.
You should also order draught beer rather than bottled, or the local beers and drinks, to save a lot of money.
27. Eat Away From The Main Street
If you're in a very touristy area, the restaurants and cafes on the main streets and by the main attractions will be very expensive. Walk around the corner or a little way from the main areas and you'll find cafes that are significantly cheaper and often also provide a nicer experience too.
28. Street Food
Street food can have a bad rep, but it's much cheaper than eating in at a restaurant. You can watch your food being made and prepared too, so it's no less reliable than eating in. You'll also get to experience the culture of a place in a new way.
29. Explore Further Afield
The biggest tourist attractions can be expensive. Talk to locals and other travellers to find places that are less well known but equally fascinating, beautiful or fun. You can also check out authentic forums and blogs. These places will likely be significantly cheaper but you'll still have a great time -- and you'll get to experience things that not every tourist does!
30. Claim Tax Back
It will depend on where you're travelling, but a lot of countries will allow you to claim back tax on purchases while on holiday. You have to look for the tax free logo in the places and restaurants you visit and present your passport. You'll need to save all your receipts and take them to the tax return stand at the airport when you get back home.
If you follow our thirty tips, you'll be able to have a great holiday even on a budget, whether you're staying in the UK or going abroad!
---