How to Save on Train Fares
Public transport is a wonderful feature of British travel, but it can sometimes get a little pricey. We've compiled a few tips about how to save on train fares, so the next time you travel by train, your ticket will be a little bit easier on your bank account.
Tip #1: Split-Ticketing
Foreign for some; routine for others …Split-ticketing is very simply buying two tickets instead of one. Initially, this seems like it would have an adverse effect on your wallet, but in fact, when travelling long distances, it can actually be cheaper to buy one ticket from your origin station to a halfway point and buy a subsequent ticket from the halfway point to your destination.
Here's an example:

*ticket prices taken from http://www.nationalrail.co.ukon 27th March 2018, prices may vary depending on time of purchase and booking site used
This split-ticket is made up of two tickets: one from Leeds to Birmingham at £30.80 and one from Birmingham to Exeter at £38.40. Crucially, you don't need to change trains – you just have one ticket for part of the way and switch to your other ticket half way through. Unlike oyster cards and contactless, you don't need to 'tap out' with a paper ticket, meaning you can sit comfortably and enjoy the ride knowing you saved a few extra quid to spend on your trip! The split-ticket may only be £7.60 cheaper, but if you are a frequent traveller, this will all add up!
Tip #2: Book early!
Spontaneous travellers; this one might be for you!

The saying goes 'the early bird catches the worm', and this is definitely true for train tickets. You can often save up to 70% on your train fare if you buy it 12 weeks in advance. This does of course mean you need to be organised and know where you're going, and again, this one tends to be most advantageous when travelling a long distance, as short distance train travel varies very little on pricing.
Tip #3: Avoid Ticket Machines
Ticket machines can be a miracle if you've had one of those days whereby even the thought of speaking to another human being irritates you. However, a ticket machine can only process exactly what you ask it to and it might not consider all the variables in your query. For example, a child travelling off-peak with a full-paying adult can travel for just £1, but a ticket machine will charge you for the adult ticket, and a full price child ticket.
Similarly, if you need a return ticket but you aren't returning until the next day, ticket machines might struggle to process your request.
It's sad but it's true: even in the 21st century, we still don't have robots that can read our minds.
Tip #4: Railcards
If you don't have a railcard already, you are probably missing out! There are several railcards available, including but not limited to:
16-25;
Two together
Senior railcards
The 16-25 railcard is valid for any persons between the ages of 16 and 25, inclusive, and saves a third on off-peak travel! It does cost £30 to buy, but on average it could save you £187 a year!
The senior and two together railcards both cost £30 each for the year as well, but can save you over £100 plus get you discounted offers for days out.
Unfortunately, you can't use more than one railcard at a time, and they all cost around £30 to buy, but the average saving per cost of the railcard is certainly worth considering!
Tip #5: Annual Tickets

Annual tickets are really only for commuters who travel to the same place every day. Annual tickets can save you hundreds of pounds a year, but there is one major drawback: the upfront cost. An annual ticket must be bought in one go – unlike season tickets which you buy each month.
Here's an example to show you how much you could save using an annual ticket:
Swanley to London Victoria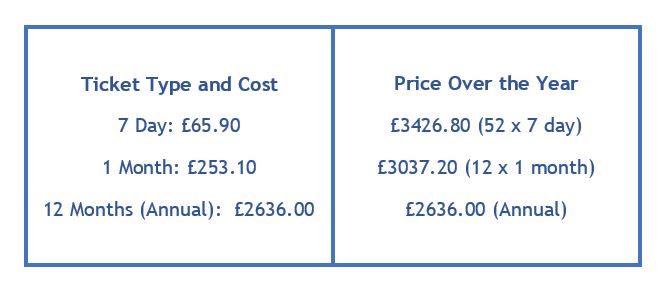 *prices based on 2018 train fares from http://www.nationalrail.co.uk
That's a saving of £401.20 per year (based on 12 monthly tickets versus 1 annual ticket). Some companies will offer Annual Season Ticket Loan schemes so that you can buy an annual ticket and pay back your company over the year. It might be worth asking if this system is in place where you work as it's often the cheapest way to buy your annual ticket if you can't do it up front. Annual tickets will save you money, but only if you have the money to buy it in the first place.
Travel expenses can be the biggest downfall of new jobs: suddenly paying for a season ticket without receiving any wages for the last month can be daunting.
Sometimes, a little extra cash between paydays – or jobs – can go a long way to getting you on your way, which is why at clearandfair.co.uk we compare loans from direct lenders, so you get the cheapest loan for your needs – whatever it may be!
---