What is High Cost Short Term Credit?
High cost short term credit (HCSTC) is a type of loan which is unsecured, has an APR equal to or larger than 100% and is usually repaid in full within twelve months. An example of HCSTC is a payday loan. This form of credit exists because there are very few ways to borrow less than £1000 as a one off loan and especially without a good credit history.
The Financial Conduct Authority
High cost short term credit has been around for some time, but it has only been regulated by the Financial Conduct Authority (FCA) relatively recently as they took over regulation from the Office of Fair Trading (OFT) and imposed new regulations on payday lenders in 2014. These regulations were put in place by the FCA, not only to further protect vulnerable customers, but also to ensure that creditors lend money responsibly. You can find out more information on the FCA regulations surrounding short-term loans on our website.
HCSTC and Annual Percentage Rate (APR)
All lenders must quote the annual percentage rate for their loans on their website. However, APR is not always a clear way of representing the amount a loan will actually cost you. Within the payday loan industry, APR quotes tend to be over 1000% because the loan is for such a small sum of money and is borrowed over such a short period of time. As you do not borrow a short term loan for the period of a year – at least not without making regular contractual repayments, you would never actually repay 1000% of the amount that you borrowed, and in any case, under the FCA regulations, loan repayments are capped at 100% of the amount borrowed.
The daily interest is a more insightful figure with which to compare direct creditors and there is a cap of 0.8% on daily interest rates (292% p.a.). This means that if you borrowed £100 for one day, you would have to repay 80p in interest. It's interesting to note, that before the new regulation of overdrafts came into effect in 2020, this rate was actually up to five times cheaper than an unauthorised overdraft.
What are payday loans used for?
There are a number of reasons consumers use short term loans, and some of these uses of a payday loans can be seen on the graph below.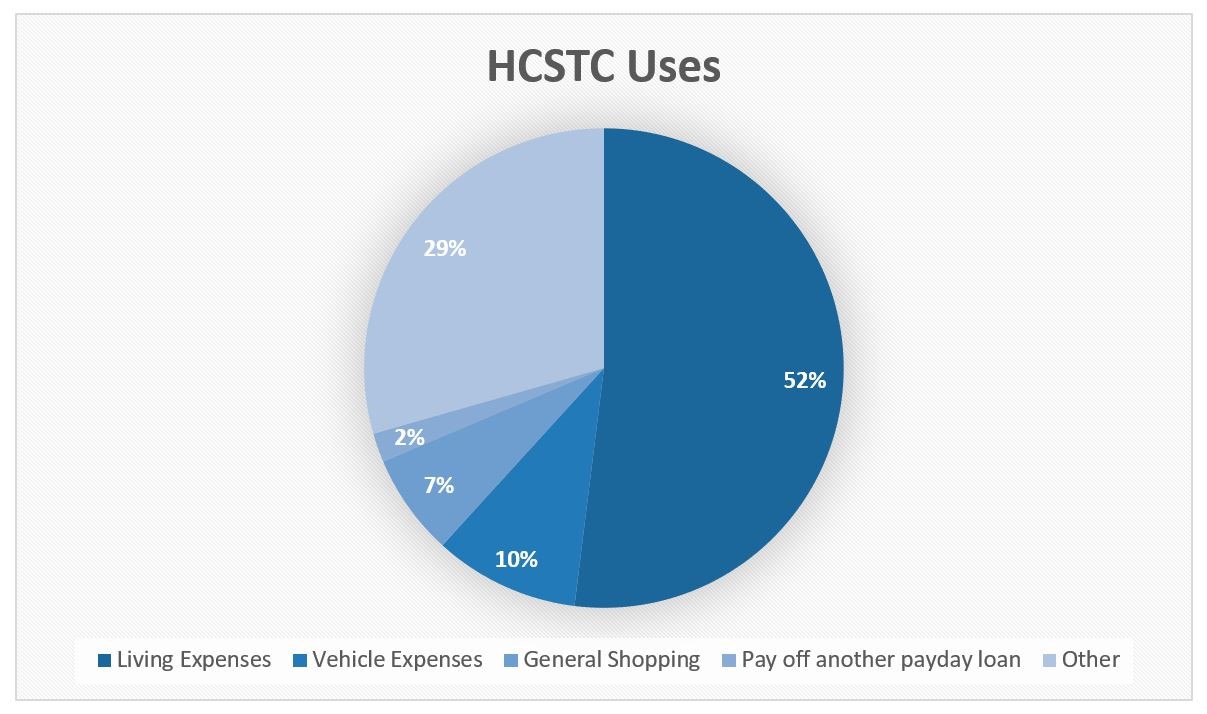 Data from www.finder.com/uk/payday-loan-statistics 2020
Consumers should use payday loans for one-off, unexpected expenses or to help ease cashflow difficulties in times of temporary financial shortfall, such as an unexpected reduction in income or a sudden increase in outgoings. Where someone with a good credit history may put a payment on a 0% interest credit card, if you suffer from a poor credit history regardless of your current financial situation, you may find yourself financially excluded from accessing the same credit products.
Who uses payday loans?
Typically, those aged 25 to 30 are the biggest consumers of short-term loans; being single and employed but on a low income (less than £1500 per calendar month) are also major factors and this makes sense for various reasons. When married or in a civil partnership, incomes are combined and so the pressure of rent/mortgage and utility bills is often somewhat reduced.
Why would someone use HCSTC over other forms of borrowing?
HCSTC offers loans to people who only need to borrow a small amount of cash and need access to the money quickly. As emergency bills do arise, be it a faulty boiler in the height of winter or a blown gearbox when the only transport to work is by car, these emergency costs often require an urgent response.
It therefore makes sense that people would apply for high cost short term credit as the funds are transferred into your bank account within a few minutes if your application is approved, and then you repay the loan plus any accrued interest on the repayment date that you select at the start of the application process. Online payday loans are quick, and the applications are simple so you can keep your cashflow flowing even when unexpected payments arise.
Clear and Fair
At Clear and Fair, we compare FCA regulated direct lenders, so that you don't have to. Even though there are caps on what lenders can charge for a loan, the costs of a loan can still vary which is why we do all the research for you. Just select how much you want to borrow and for how long, and we will compile a list of lenders that offer loans to suit your needs. We understand that emergency bills can require an urgent response and that's why we show online direct lenders who could transfer the funds to you on the same day that your application is approved.
Short-term loans are not a form of income and do not substitute as such. You should only borrow money if you really need to and if you know you can afford to make your repayments on time, as missing your repayments can cause you serious money problems.
---